Recently @Board Rider commented that he is using GIMP, an open-source image editing software application, to prepare his maps for the Heroes of Eberron Campaign. He mentioned that there's a bit of learning curve, and that he was finding it a little difficult to make the program do everything that he wanted.
I've been using GIMP for mapping for nearly the entirety of the Ancestral Burdens campaign. I find that the real key to getting the most out of the program is to standardize your mapping practices so that you don't have to do things over and over again. So I thought I'd make a toolkit for people who want to map using GIMP.
This is a downloadable ZIP file with a set of very basic but useful chunks of map-making assets. The ZIP contains:
A grid, 800 pixels by 800 pixels. Each grid square is 20 x 20 pixels, for a total of 40 by 40 squares. At 5 feet per square, that's a 200 foot by 200 foot area, which is ample for most battles that a DM is likely to run. Those of you who have played in one of my campaigns are likely familiar with this grid; I use it for everything.
Basic disc icons sized to represent a Small or Medium creature. They come in blue, green, red, purple and gray. Each color set has a blank disc, plus a series of discs numbered 1 through 10. They are scaled to fit the 800 x 800 grid.
A concentric rangefinder in increments of 10 ft., with a maximum range of 60 ft. Good for checking whether two creatures are in range of each other's darkvision, or for determining who's in reach for a charge by most PCs and NPCs. Also handy for calculating range increments for thrown weapons.
Area markers for circular radii of 10 ft., 20 ft., 30 ft., and so on up to 80 ft. Ideal for figuring out who's inside the radius of a fireball or sleet storm spell.
Area markers for cones at 15 ft., 30 ft., and 60 ft. Each size comes in a diagonal and a straight version, because cones are a pain in the ass to map.
All of these images (except for the grid) are provided as transparent PNG images, which allows them to be dropped into a map without disrupting the layout. Sample images below:


Blue disk, numbered.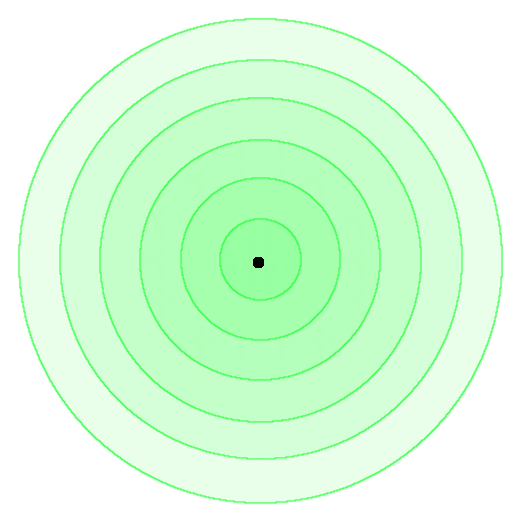 Rangefinder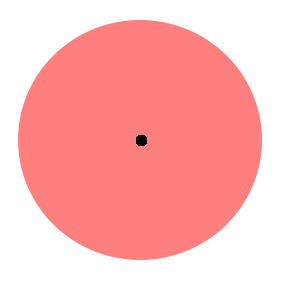 30 ft. radius area.


15 ft. cone (straight)


15 ft. cone (diagonal)