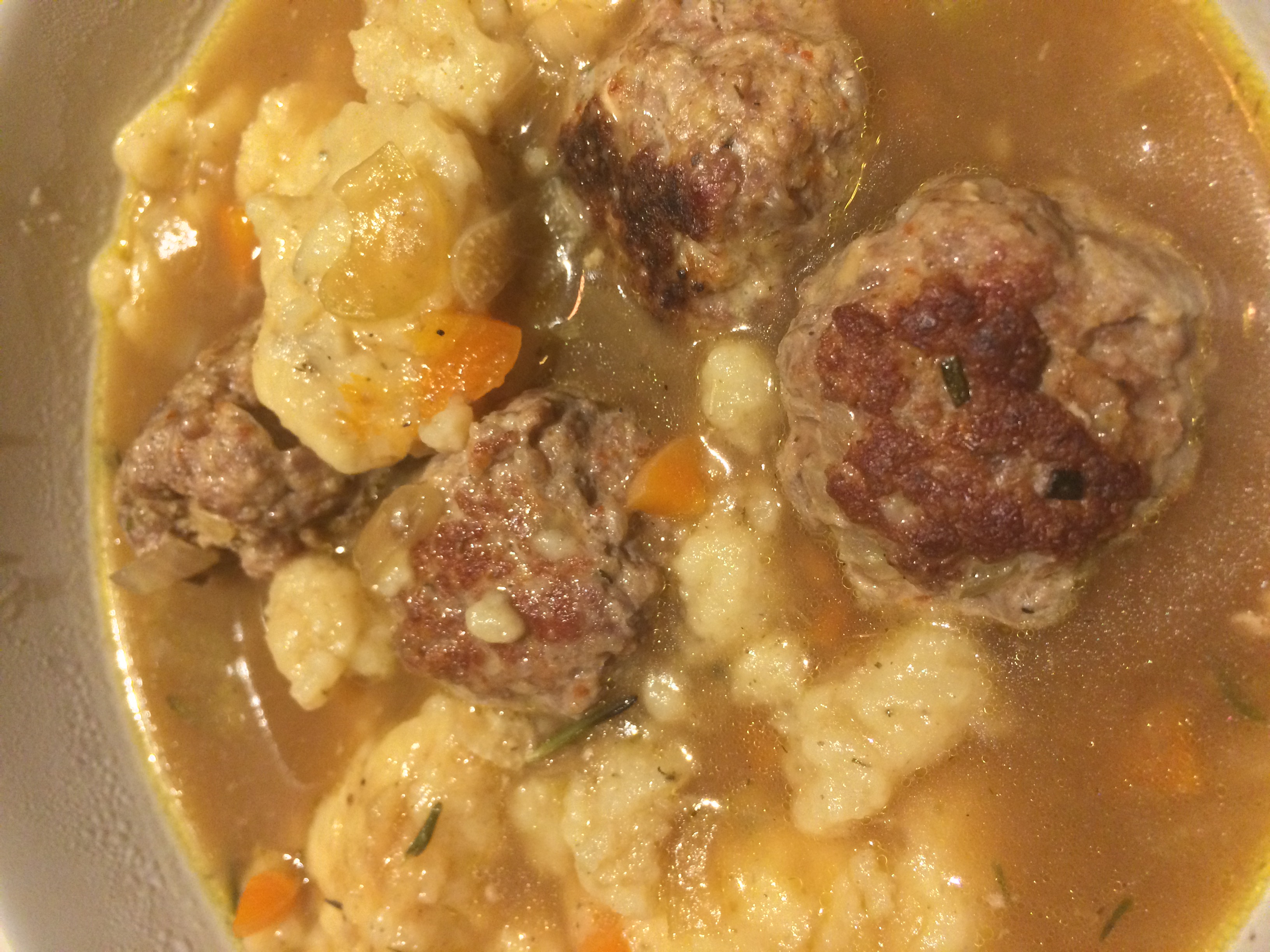 This spicy, herb-laden soup is a lot of work if you're trying to prepare it all in one go, putting it somewhat out of reach for most households as a weeknight meal. But if you break it into stages, the dish is accommodating to a busy wintertime schedule. The foundation of the soup is a ginger-infused broth that can be assembled several days ahead of time and kept under refrigeration until called for, and the same goes for the meatballs, leaving only the dumplings to be actively prepared the day it will be served.
Ingredients
For the broth
2 tablespoons olive oil
1 small onion, coarsely chopped
1 stalk celery, coarsely chopped
2 garlic cloves, coarsely chopped
1 carrot, peeled and coarsely chopped
1 quart chicken stock
1 tablespoon coarsely chopped peeled fresh ginger
1 stalk of fresh lemongrass, thinly sliced crosswise
sprig of fresh thyme
sprig of fresh rosemary
salt and pepper to taste
For the meatballs
1 pound lean ground meat (I used venison, but lamb, pork, beef, or even poultry would be fine)
1 large egg
¼ cup breadcrumbs
2 teaspoons cayenne pepper
1 teaspoon ground black pepper
1 tablespoon dried dill
1 teaspoon salt
½ stalk fresh celery, finely minced
1 tablespoon olive oil
For the dumplings
1 ½ cups all-purpose flour
2 teaspoon baking powder
¾ teaspoon salt
1 tablespoon dried dill
3 tablespoons cold butter, cut into pea-sized chunks
¾ cup ice-cold milk
Procedure
Broth
In a large saucepan over medium heat, heat oil. Add onion, celery and garlic and saute for 5-10 minutes, until translucent and beginning to caramelize. Add carrot, stock, ginger, lemongrass, thyme and rosemary, bring to a boil, then simmer over low heat for approximately 25 minutes. This step may be done ahead and the broth reserved in a refrigerated container for up to a week, but in this case you will want to remove the rosemary and thyme prior to storage. When you are ready to use the broth, bring it to a simmer in a large pot.
Meatballs
In a medium-sized bowl combine the ground meat, breadcrumbs, cayenne, pepper, dill, salt and celery. Mix thoroughly until all ingredients are well incorporated, then roll into walnut-sized balls. If you are preparing these ahead of time, spread them into a single layer on a large plate, cover with plastic wrap, and refrigerate for no more than about two or three days. They can come out of the refrigerator and go directly into the next step of preparation.
Place olive oil in a heavy skillet over medium-high heat. Sear the meatballs on all sides until they take on a deep golden-brown color, and then transfer them into the simmering broth. Meatballs are done when they begin to float.
Dumplings
In a medium-sized bowl, combine flour, baking powder, salt, and dill, whisking dry ingredients together to incorporate thoroughly. Add butter, and incorporate well with hands until a crumbly consistency is reached. Gradually stir in milk until a thick batter is formed. Do not over-mix.
Spoon the batter, by heaping teaspoonfuls, into the simmering broth, stirring occasionally to prevent cold spots, until all batter is stirred into the broth. Dumplings are fully cooked when they begin to float.
Serves four adults.